Tarjouksissa & tarkastelussamme nyt parhaan lisäarvon kodit tällä kertaa eli "TOP-ALEt"
. Näiden viikossa muuttuneiden kotien joukko antaa tilaisuuden tutustua uusiin tarjouksiin, jotka luovat eniten lisäarvoa niiden ikiomassa ympäristössään. Viikkokatsaus poimii sinulle tarkalle ostajalle / myyjällekin näin vain mielenkiintoisimpia koteja esiin, joissa laatu, kilpailukykyisempi hinta + kohonnut arvostus kohtaavat toisensa parhaiten.
Voit avata myös koko myynti-ilmoitukset suoraan tarjousarvioiden ohesta nopeasti & helposti sekä löydät kivan & maagisen automaattisen vertailun (

)

alueen parhaimmasta myynnin kilpailusta juuri nykyään.

This error message is only visible to WordPress admins

Error: API requests are being delayed for this account. New posts will not be retrieved.

Log in as an administrator and view the Instagram Feed settings page for more details.
Olkaa hyvä !
Idyllinen yksiö


puulämmityksellä vanhasta puutalosta

( m2)

Ostajan etua

:

€ / +%

Markkina-arvostukset ovat miinuksella: % missä eniten arvostusta laskee sen koko 40,7 m2 (n %) tänään sen kilpailun omassa ympäristössä. Lisäarvoa syntyy sijainnista ( €) nykymarkkinoilla. Tämän takia pyyntö on ostajan eduksi tarjolla reilusti. Myyntihinta on n tuhatta euroa alle aluehintasuosituksen ( €) juuri tässä kohtaa kaupunkia: €. Ilmoitus on yli-ikäinen ( pv auki) ollen yli jo reilusti sen normaalin myyntiajan ( pv). Koti ansaitsee nyt neljä barometria johtuen kodin sijainnista, mutta ottaa huomioon puutalojen & 1. kerroksen alennukset & paineet keskustan markkinoilla yleisesti.

Yleisarvosana:

4/5

Romanttinen koti vehreän pihan kera lähellä keskustaa.

 

 

.




NYT

€

Markkinoilla
päivää
Alkuhinta
€
Luise 16, Kassisaba, Kesklinn, Tallinn Avaa myyntitarjous
_
Markkinatilanne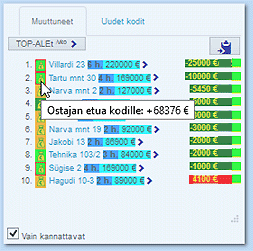 Markkinatiedot tarjoaa
Kotiselaimen TOP-ALEt avaat helposti menemällä kaupunginosaan ja aloittamalla sitten painikkeesta, joka avaa sen kartalle esiin.
Tarkemmat kodin tarjoustiedot löytyvät aina napauttamalla väritettyä hintakuplaa.
.